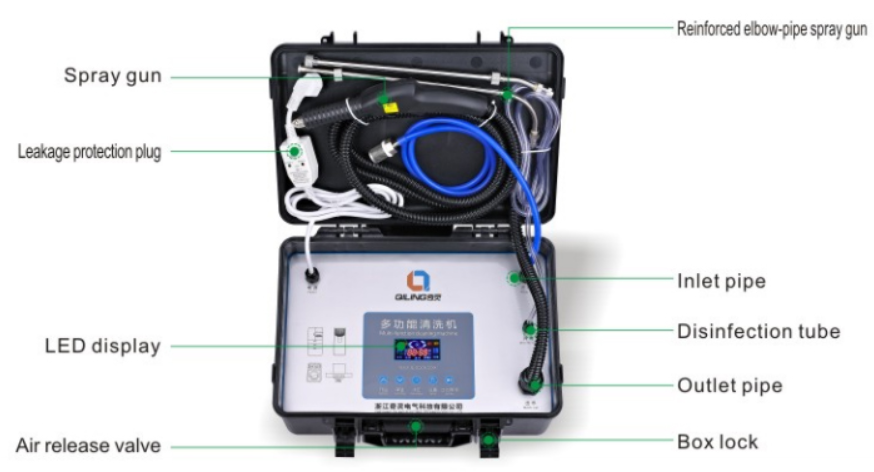 This multi-function cleaning machine is specially designed for air conditioners, range hoods, refrigerators, washing machines, water heaters,water dispensers, etc. It has functions such as cold/hot water high pressure cleaning, pulse high pressure cleaning, high temperature steam cleaning, powerful ozone disinfection, etc. It is featured with multi modes, adjustable pressure, adjustable temperature, easy operation and easy to use.It adopts the working principle of instant high temperature and high pressure to realize cleaning of range hoods and air conditioners without disassembling. Its self-suction operation enables it to thoroughly remove the scale, rust, algae and other harmfulsubstartşesinside the household appliances such as water dispensers and water heaters by means of circulating flushing. It adopts the patented ozone sterilization technology to disinfect t machines, refrigerators and so on with 300mg/H super strong ozone, the sterilization rate is water dispensers, washing over 99.9%.
Technical parameters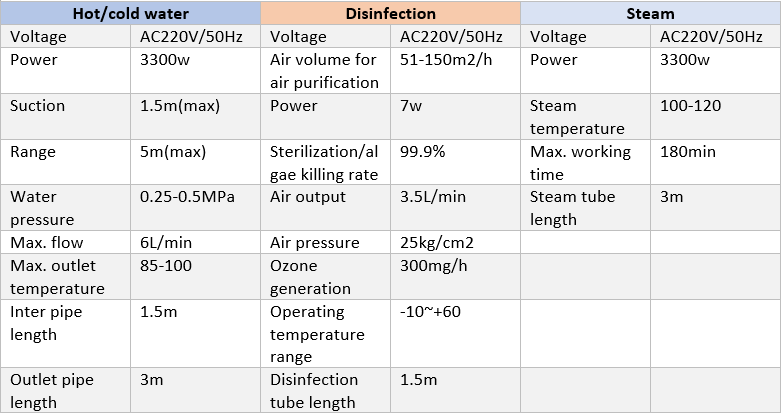 LED display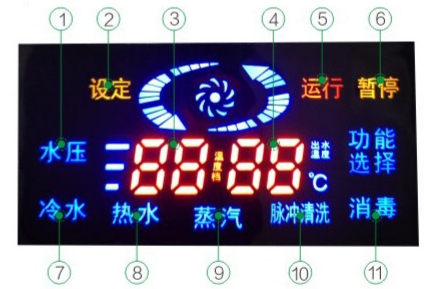 Machine functions and panel introduction
1. Functions of the washing machine: cold water, hot water, steam, pulse cleaning and disinfection.
2. LED panel display: as shown in Fig. 2: 2.1 Water pressure: the three columns on the right of water pressure indicate low, medium and high water pressures. 2.2 Set: it is able to adjust the water pressure and temperature.
3. Temperature gear: P1, P2, P3 three gears, which respectively indicates the low, medium and high heating power.
4.Spray gun temperature
5.Machine operation
6.Machine pause
7.Cold water mode

8.Hot water mode
9.Steam mode
10.Pulse cleaning mode
11.Disinfection mode